Motorway Lessons
You can book a minimum of six hour with one of our fully-qualified driving instructors, who will give you valuable guidance and feedback.
Benefits of motorway lessons
Driving on a motorway may seem daunting, but our instructors aim to give you the confidence and skills to tackle any route.
We'll help you to:
gain new skills to make you a safer motorway driver
become more familiar with the rules of motorway driving
increase your motorway driving confidence
Be prepared for new penalties
The government has announced that they are to introduce new penalties to tackle tailgating and middle-lane hogs under a new careless driving fixed penalty offence. The changes will give the police powers to issue fixed penalty notices for some forms of careless driving, freeing them from resource-intensive court processes. The fixed penalty will also enable the police to offer educational training as an alternative to endorsement. Drivers will still be able to appeal any decision in court.
Our motorway lessons will cover the awareness and skills you'll need to avoid these new penalties.
Motorway lessons are charged at our standard post-test rates. For more information about motorway lessons and costs, please call us.
​
Horror story: Brake disc
Matters of Testing, — Horror stories
When the owner of this vehicle dropped it off with Martin, at Discount Tyres in Sittingbourne for its MOT, they mentioned a noise which had been coming from the front of the vehicle when braking.
Martin offered to carry out an inspection of the brakes but the owner declined and asked only for the MOT to be done.
When driving the vehicle in for test, Martin noticed the ABS light was on. When carrying out the underside inspection, he couldn't see a brake disc on the nearside front, so decided to abandon the test.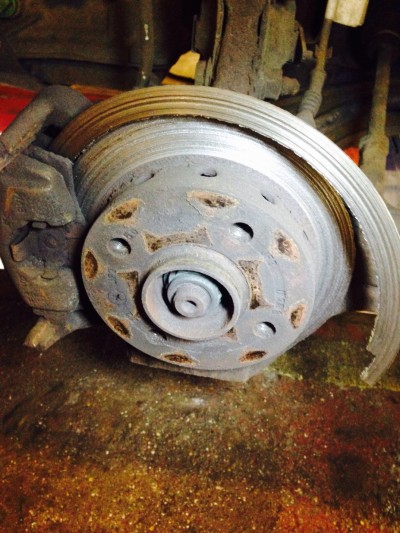 Martin abandoned the test as he felt it wasn't possible to complete all aspects safely. A decision we can't argue with. Obviously in situations like this, conducting a brake test would be out of the question.
If the rest of the test can be completed, without risk of further damage or injury, then the reason for rejection 'Item not tested' (RfR 3.7A1), could be used to fail the vehicle, along with a note that a brake test was not conducted.
Luckily this owner made it to their MOT before suffering more serious consequences.
Tyre safe
Keeping your tyres properly inflated is essential for your safety on the road. Not only will correct tyre pressures reduce the risk of suffering a dangerous high speed blowout, but it will also give better handling and braking. What's more, correct inflation means your tyres will last longer, you'll use less fuel and you'll even reduce your impact on the inviroment. Your tyres will lose pressure naturally over time so it's important that you check them at least once a month or before any long journeys.